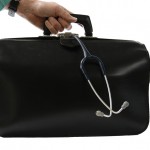 It used to be that doctors made house calls.  This was essential because there were few doctors that were responsible for vast areas.  People would send for the doctor if a person was sick, and there was nothing left to do but for the doctor to make a house call to help the patient.
As communication grew along with communities and towns house calls increased for a while, then decreased with the advent of medical centers and hospitals.  There were still house calls, however, there were more and more people going to doctor's offices, clinics and hospitals.
Then came the era of cities that had organizations and health departments, making the era of house calls nearly a  thing of the past.  There was one group, however, that still fared better with house calls.  This group includes seniors and individuals with disabilities. Continue reading →
Just when we are talking about going back to the basics of house calls on one end of the spectrum, the other end of the spectrum is beginning a pilot program in telemedicine.
House calls will begin being expanded soon and paid for by Medicare for those with multiple serious conditions and other situations that make house calls the best form of care for them.
Now, with that out of the way, Medicare is still looking for ways to provide effective and adequate treatment to patients while containing costs.  They are finally looking at telemedicine.
Telemedicine has been around for quite some time now.  Some private insurers have paid for certain treatment by telemedicine.  For example, I have a nephew who was born with serious heart problems and had a pacemaker installed when he was younger, nearly a decade ago.  Once his initial treatment was completed, telemedicine was used to keep him in sync of his heart surgeon and keep his heart surgeon abreast of his condition. 
At the time, what would happen was that we would call a particular phone number and use our phone and another instrument to measure my nephew's heart rate, heart rhythm, blood pressure and other vitals, as well as whether the pacemaker was working.  The doctor would get the reports and then we would have a conference by phone.  If there were problems or complications we would go to the local emergency room where my nephew's doctor would communicate with the emergency room doctor by phone and computer.  If things got too serious, we would get my nephew up to the Children's Hospital where his doctor was on staff.
Today's telemedicine is more advanced than it was a decade ago.  There are cameras and TV screens that allow doctors and patients to see one another.  Patients have some of the instruments such as stethoscopes, so that they can be instructed by the doctor when and how to use them so he can help them remotely.  There are also touch screens patients can use to answer doctor's questions to aid in a diagnosis. 
Now that insurance companies – and Medicare – have realized what doctors and patients have been saying for years, they are finally trying telemedicine out.  Doctors and patients have been telling insurers that it is better for everyone that telemedicine evaluations, where appropriate, cost under $1,500 on average as opposed to a hospital admission or other tests that often add up to somewhere between $2,500 to $15,000.
It is good news that Medicare is now looking at ways to see if telemedicine will work well for certain patients.  If it only keeps a few patients out of each hospital, Medicare can save potentially over $100,000 per hospital while patients receive quality care.  This is an issue to keep an eye on.
There was a time not too long ago when many doctors made house calls, especially for the elderly or disabled.  It was more of a comfortable, less stressful and easier situation for the individual who needed medical care.
With the increase in "big medicine" people have gotten used to going to the doctor's office.  There are many reasons for this.  Doctors are able to treat more patients if they can stay in one place and have the patients come to them.  They also have all of their equipment set up in their office, as well as usually having a laboratory, x-rays and other services located in their medical building or close by, making it much easier for them to diagnose and treat their patients.  And, of course, if they are at the office and the patients come to them, they can schedule up to 30-35 patients per 8 hour day in 15 minute increments.
Though this is convenient and cost-effective for the doctor, it has its down side for both the doctor and patients.  If a doctor takes longer than the 15 minute time slot with a patient, it has a domino effect and backs all the other patients' appointments up, making them have to wait longer.  We have all sat for what seemed like forever just to be rushed through a doctors  appointment and we have left wondering if the doctor actually heard anything that we said in the rushed 5  minutes that we were able to the doctor face to face.
Though most of us can sit through the wait and get through the appointment, it is often much harder for a person who is elderly, frail or disabled.  Medicare knows this and so do doctors.  There are still some doctors that will schedule house calls and Medicare will pay for these visits, though most patients don't know it.
There is a quiet but powerful move by a number of doctors across the country to try to see ore patients in their homes.  With an elderly or disabled patient, an appointment at home saves the often difficult trip to the office.  A home visit also allows the doctor more time to examine and talk with the patient to take a closer look at any changes in health or any difficulties the patient might be having.  If a problem is discovered that cannot be dealt with at home, the patient can then be seen at the doctor's office, but most often, with regular care, most treatment and observation can be carried out at home.
If you receive Medicare benefits and find it too difficult to go to your doctor's office, ask if your doctor makes house calls or if the doctor knows of a doctor, nurse or nurse practitioner who does.  You can also ask for information from the home health care agencies and hospice in your area.  There is not an overabundance of doctors who make home visits, but there are some and the numbers are slowly growing making it easier for individuals covered by Medicare to receive the care they need.