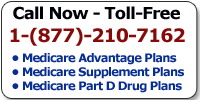 Options for Your Long Term Care in Medicare 2012
When it comes to considering long term care insurance or ways to pay for your long term care there are a few options that are always available. You could use your savings and choose exactly how to be cared for by being able to pay for it yourself. You could have separate long term care insurance or you may even have a local or community group that provides some of this coverage.
Some people may not have these options available to them and if not there are a few other things to consider.
1. Medicaid: The state and federal governments team up on Medicaid, meaning that you may have the option of getting a little more assistance from them.
2. VA: Veterans benefits can sometimes help with long term care and give you the help that you need.
3. PACE (Programs of All-inclusive Care for the Elderly): This is a Medicare and Medicaid program that can sometimes offer nursing home level care and allow you to stay in the community.
4. The Community Living Assistance Services and Supports (CLASS) Program: This will be a national, voluntary insurance program to help pay for services and supports needed to live as independently as possible. CLASS isn't available yet. Eligible working adults will be able to enroll in the CLASS program when it begins. Enrollees who meet certain eligibility requirements (including at least a 5-year vesting period and the need for assistance with activities of daily living) will have access to the benefit.